Esta es la época del año en la que los exámenes de Cambridge están a la vuelta de la esquina y los estudiantes están dispuestos a hacer un esfuerzo adicional para alcanzar sus objetivos.
Para ayudarte, Go English seleccionó sitios web útiles que pueden marcar la diferencia al dar tus exámenes de inglés de Inglaterra. Incluyen material para el Cambridge English First (FCE), Cambridge English Advanced (CAE) y Cambridge English Proficiency (CPE), entre otros.
Encontrarás ejercicios de vocabulario, ejercicios de gramática, desarrollo de habilidades y pruebas de práctica para todos los niveles de los exámenes de Cambridge English.
Increíblemente útil, con un montón de ejercicios (y respuestas) para todos los diferentes niveles y todas las diferentes habilidades. Muchos estudiantes lo han utilizado y nos han dado excelentes comentarios.
Clic para visitar Flo-Joe.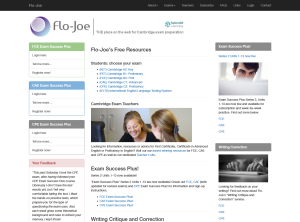 ¿Dudas sobre cuál es tu nivel de inglés? ¿Estoy preparado/a para hacer el examen? ¿Cómo puedo saberlo? Visita esta web y lo sabrás en unos minutos.
Basta con acceder a la sección de "General English", hacer la prueba, comprobar las respuestas y obtener tu puntuación.
Clic para visitar Test Your English.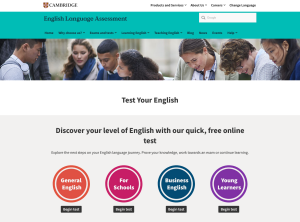 Start your path to a successful, enjoyable and enriching English learning experience in Uruguay.