Start your path to a successful, enjoyable and enriching Cambridge English experience in 2023.
The First, Advanced and Proficiency certificates are within your reach now.
→ View your class schedules.
Be among the top 15% of English speakers in Uruguay, with a Cambridge degree.
Did you know a Cambridge English certificate is one of the most important qualifications in the world?
Class schedules:
Monday and Wednesday
Tuesday and Thursday
8 – 10 h
15 – 17 h
17 – 19 h
19 – 21 h
Excelente! Se recomienda, los profes son muy preocupados y dedicados
martina wasersztein
2021-08-25
tremendo lugar para estudiar ingless!!
Josefina Grezzi
2021-08-25
Excelente lugar para estudiar inglés! Mr G da las clases más divertidas!
Juan Ignacio Vinaja Rubio
2021-08-24
Gran Instituto y mejor profesor
International Cambridge English Exams
Join our First (B2), Advanced (C1) or Proficiency (C2) courses to get an internationally recognised qualification. Succeed while having fun! Contact us.
Get help with your Cambridge exam preparation in high school.
Study or work abroad or remotely.
Improve your CV to get a better job.

Conversation Classes
Keep your fluency and polish your pronunciation.
We will watch movies, listen to songs, read interesting articles or extracts from bestsellers, and even go places with the group, and discuss in an interactive and friendly atmosphere.
You just need a reasonably good oral English level and willingness to have great conversations. Open to all ages. Learn more here.
Lessons for Adults
If English is a pending issue for you or your career, join one of our classes which go from Intermediate to Advanced level.
And if you already are at an Advanced level, get the internationally recognized certification you were missing to help you boost your career. Start the change. ??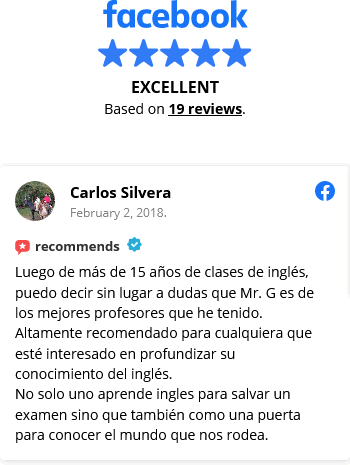 Learn English with lessons run in a caring, friendly and cozy atmosphere, always bearing in mind that each student is unique and has different needs, interests and abilities.
With the help of updated authentic material and technology (and our sterling Book Bar) you will be able to acquire the different language abilities to succeed in a competitive world.
Meet last year's English class!
¡En Uruguay, 6 de cada 10 tienen conocimientos de inglés… pero sólo 1 de cada 10 tiene certificación oficial!